---
What my experience means to you is that Premed Advising Services offers you seasoned, professional counseling. Our guiding principle is to develop your strengths, address potential weaknesses, and facilitate your success. There are no gimmicks. We deliver straightforward, practical guidance and counseling, individualized to focus on you and where you are in the process.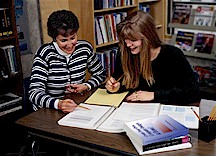 There are several possible arrangements. We can have individual appointments, where you pay on an individual basis as you go along. Or we can arrange a package, which works well if you will be an applicant this year. We can do much of this by phone/fax/email, or even snail-mail. Sometimes face-to-face meetings are more effective, depending on what kind of help you need. We can work that out to our mutual agreement.
If you're in school now and have a strong premed advising program, you may have all the support you need. But if there is no program, or it is overtaxed by too many applicants, or if you have graduated and have no guidance available, then Premed Advising Services may be just what you need.